Hijacked IP Address- Federal prosecutors in California have filed criminal charges against four employees of Adconion Direct, an email advertising firm, alleging they unlawfully hijacked vast swaths of Internet addresses and used them in large-scale spam campaigns. KrebsOnSecurity has learned that the charges are likely just the opening salvo in a much larger, ongoing federal investigation into the company's commercial email practices.

Prior to its acquisition, Adconion offered digital advertising solutions to some of the world's biggest companies, including Adidas, AT&T, Fidelity, Honda, Kohl's and T-Mobile. Amobee, the Redwood City, Calif. online ad firm that acquired Adconion in 2014, bills itself as the world's leading independent advertising platform. The CEO of Amobee is Kim Perell, formerly CEO of Adconion.
In October 2018, prosecutors in the Southern District of California named four Adconion employees — Jacob Bychak, Mark Manoogian, Petr Pacas, and Mohammed Abdul Qayyum —  in a ten-count indictment on charges of conspiracy, wire fraud, and electronic mail fraud. All four men have pleaded not guilty to the charges, which stem from a grand jury indictment handed down in June 2017.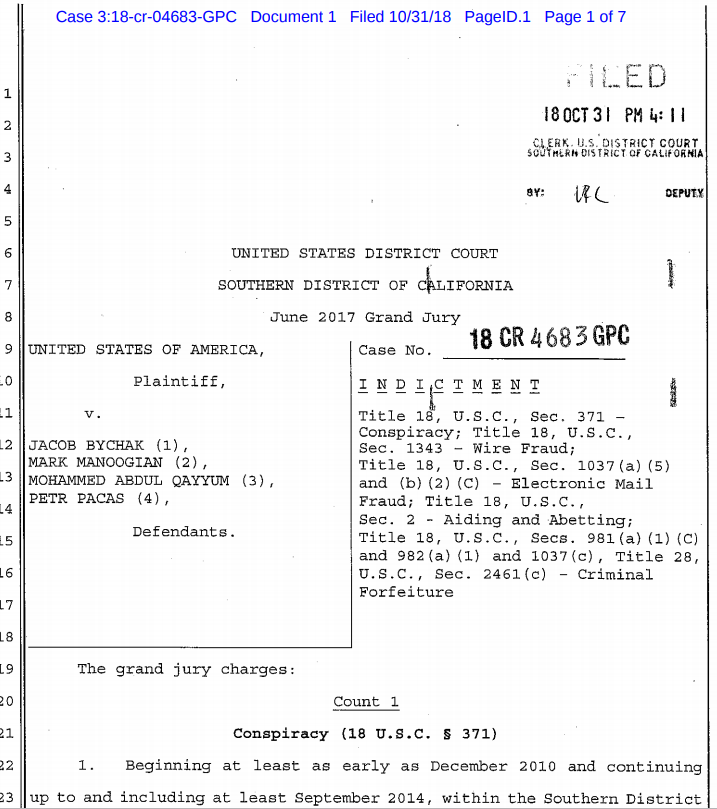 'COMPANY A'
The indictment and other court filings in this case refer to the employer of the four men only as "Company A." However, LinkedIn profiles under the names of three of the accused show they each work(ed) for Adconion and/or Amobee.
Mark Manoogian is an attorney whose LinkedIn profile states that he is director of legal and business affairs at Amobee, and formerly was senior business development manager at Adconion Direct; Bychak is listed as director of operations at Adconion Direct; Quayyum's LinkedIn page lists him as manager of technical operations at Adconion. A statement of facts filed by the government indicates Petr Pacas was at one point director of operations at Company A (Adconion).
According to the indictment, between December 2010 and September 2014 the defendants engaged in a conspiracy to identify or pay to identify blocks of Internet Protocol (IP) addresses that were registered to others but which were otherwise inactive.
The government alleges the men sent forged letters to an Internet hosting firm claiming they had been authorized by the registrants of the inactive IP addresses to use that space for their own purposes.