From lengthy email signatures to employees' social media posts, we look at the many ways organizations make it easier for attackers to break in.
Businesses Hackers- Most of your employees likely know better than to send a password via email or open a strange attachment from someone they don't know. But do they know better than to post photos of their badges on social media or include details about internal software in job descriptions?
"I see this all the time, and this is what makes my job as a simulated attacker so much easier," says Stephanie Carruthers, global social engineering expert at IBM's X-Force Red, who goes by "Snow."
To be sure, there are many ways organizations and their employees unknowingly give cybercriminals a helping hand. Some of the errors are subtle, involving email signatures and out-of-office messages, points out Chris Hadnagy, founder and CEO of Social-Engineer. Others are bolder, involving social media.
"You would think in 2019 we wouldn't see this," he says, explaining how even photos from office holiday parties can expose sensitive details. "There's so much I can tell from these pictures." Attackers looking to break in can learn plenty with simple Internet research, and oftentimes, the people sharing helpful information aren't aware they're doing anything wrong.
Here, security experts share the most common and consequential ways organizations unknowingly leave themselves vulnerable to cybercrime. Did they leave anything off the list? Feel free to weigh in and share your additions in the Comments section, below.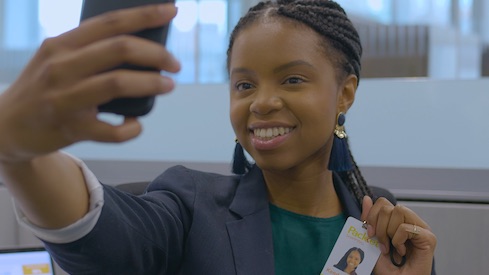 A Picture Says 1,000 Words
The most common slipup Snow sees in her research is companies oversharing online, especially on social media. Examples include human resources sharing photos and videos to attract job applicants, interns posting photos of new badges, and employees sharing photos at office functions.
"What they don't realize is that in those pictures or videos could be employees with their badges or information on whiteboards … a lot of things attackers could use to their advantage," she explains.
When Snow does a security assessment for a client, she looks for pictures of employee badges so she can create her own and bring it on-site. A quick Internet search for the company and its employees usually yields a photo of someone's office badge.
"It doesn't need to work," she says. "As long as it looks like everyone else's, I'm not questioned."
Of course, badge photos are only one example of content that shouldn't be shared on social media. Office pictures can also show an attacker how desks and cubicles are laid out, what type of computers employees use, and the programs, email clients, and browsers they're running. When companies participate in online trends and challenges – Snow points to the viral Ice Bucket Challenge as an example – they're not thinking of what they may accidentally reveal: close-up pictures of the building, access control systems, or Post-its with login credentials.
"They make it easy to duplicate and impersonate and have knowledge an outsider shouldn't have," says Hadnagy about the data companies unintentionally share online.

Out of Office: Watch What You Say
When asked about the most common ways companies make themselves vulnerable, Hadnagy first points to automatic replies, or out-of-office emails. Employees often include a precious amount of detail – enough for an intruder to take advantage, he says.
An example: "Hey, this is Chris, I'm away in Hawaii on my honeymoon. For project X, contact X person at X email address; for project Y, contact Y person at Y email address."